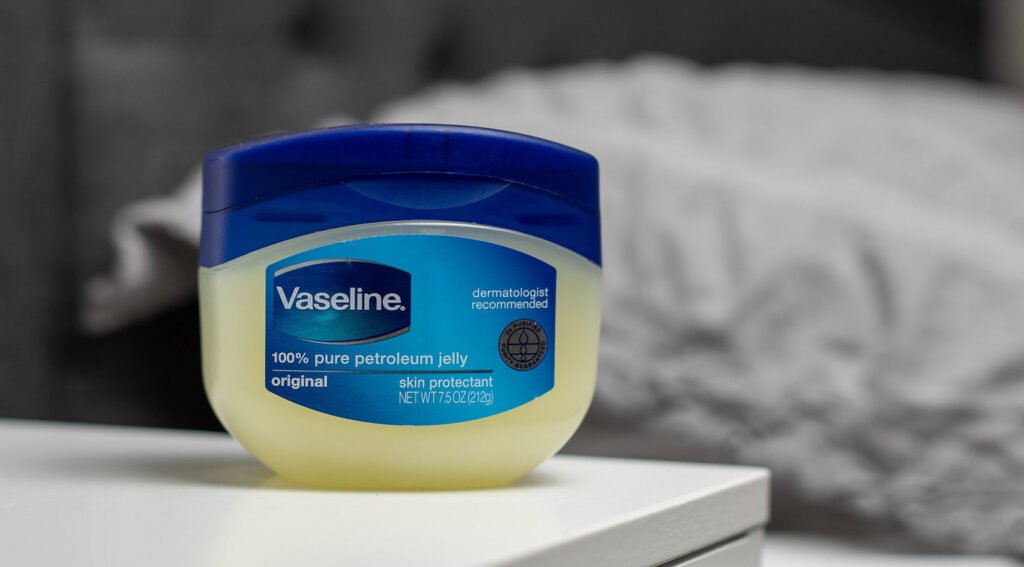 Vaseline is a petroleum jelly-based product brand. It's a popular moisturizer for dry, chapped, or irritated skin. It can also be used as a barrier cream to protect the skin from irritants, as a lip balm, and as a first aid treatment for minor cuts and burns.
Vaseline is well-known for its occlusive characteristics, which means it forms a barrier on the skin that keeps moisture in. However, it might block pores and worsen acne in certain people. Some people are sensitive or allergic to petroleum-based goods. It is critical to select skin care products that are appropriate for your skin type and issues.
To save on skincare, these are the best ways to use vaseline:
Longer Lashes
Hair Dye
Soften Cuticles
Makeup Remover
Smooth Lips
Eyebrow Gel
Clear Blackheads
Smooth Feet
1) Longer Lashes
Apply a small bit of Vaseline on the lashes before going to bed for longer lashes. The petroleum jelly will nourish and moisturize the lashes, promoting growth and preventing breakage.
Some people believe it helps to make their lashes appear longer and thicker. Using Vaseline on your lashes regularly can result in longer, healthier lashes over time. When applying, be gentle and avoid putting the product in your eyes.
2) Hair Dye
Vaseline can be used as a barrier cream to prevent hair dye from staining your skin. To use, apply a thin layer of Vaseline around your hairline, ears, and neck before dyeing your hair. This will create a barrier between your skin and the dye, reducing the likelihood of staining. After dyeing, wash the Vaseline off with soap and water.
Keep in mind that using Vaseline as a barrier cream may not completely prevent staining and it is best to follow the instructions provided by the hair dye manufacturer.
3) Soften Cuticles
Vaseline can be used to soften cuticles. Here are a few ways to use it:
Apply a small amount of Vaseline to your cuticles and massage it into the skin.
Soak your fingers in warm water for a few minutes to help soften the cuticles, then apply Vaseline.
Before bedtime, apply Vaseline to your cuticles, put on gloves, and leave it on overnight.
Mix Vaseline with a few drops of olive oil for added hydration, then massage into cuticles.
Vaseline is an occlusive agent and may cause the skin to become clogged if used in excess. It's important to remove any excess after use and wash your hands thoroughly.
4) Makeup Remover
Apply a tiny quantity of Vaseline to the face and gently rub it in to remove makeup. The petroleum jelly will aid in the removal of stubborn makeup, especially waterproof mascara.
Rinse with warm water and then apply a light face wash. Vaseline is a gentle and effective makeup remover that can also aid to keep the skin hydrated. However, it may not be appropriate for all skin types and may block pores in some people. It is critical to select skincare products that are appropriate for your skin type and issues.
5) Smooth Lips
Apply a small layer of Vaseline to the lips as needed to smooth them. Petroleum jelly will hydrate and condition dry, chapped, or peeling lips, preventing and relieving discomfort.
The use of Vaseline on the lips regularly might result in smoother, healthier, and more supple lips. It can also be used as a basis for lip color or as an overnight lip balm. Vaseline is a versatile and effective product for keeping lips healthy and nourished.
6) Eyebrow Gel
Apply a little quantity of Vaseline to a spoolie brush and comb through brows to calm unruly hairs and keep the contour in place. The petroleum jelly will keep your brows in place without making them hard or crunchy.
Brows that are well-groomed and defined can be achieved by using Vaseline regularly. To avoid irritating the delicate skin around the eyes, choose a brow product that matches your desired style and hair type, and apply it gently.
7) Clear Blackheads
Using Vaseline to remove blackheads is not suggested because it might clog pores and worsen the condition. Blackheads are caused by clogged pores and excessive oil production, and applying petroleum jelly can aggravate the condition.
To keep pores clear, use a gentle face wash, exfoliate periodically, and use non-comedogenic skincare products. If blackheads continue, consult a dermatologist for guidance on the best treatment option.
8) Smooth Feet
Apply a generous amount of Vaseline to the feet and thoroughly massage. Petroleum jelly nourishes and moisturizes dry, rough, or calloused skin, avoiding cracks and pain.
Regular use of Vaseline on the foot may result in smoother, healthier, and softer feet. It can also be used to treat areas of skin that are very dry or rough. Combining Vaseline with other foot care techniques such as wearing comfortable shoes and avoiding exposing feet to harsh environments is a good idea.
You may also read: