A portfolio is a collection of works or projects that showcase a person's skills, achievements, and experience. It can be used to demonstrate the value and expertise a person brings to a particular field, such as art, design, writing, photography, or tech.
A portfolio typically includes examples of completed projects, case studies, samples of written work, and/or photographs of created works. It may also include testimonials, resumes, and other supporting materials. A well-designed and curated portfolio can help a person stand out in a competitive job market and showcase their unique strengths and abilities.
In this article, we'll be looking at 5 of the best portfolio websites, and seeing if there are any that would suit your type of portfolio:
Dribbble
Behance
Coroflot
Portfoliobox
Carbonmade
Designers, artists, and other creatives can showcase their work on Dribbble and connect with possible customers or partners. Users can share both finished products and work-in-progress, such as screenshots, sketches, and animations.
Designers and creatives can interact with one another, offer comments, and connect with possible employers or clients on Dribbble. The platform is frequently used to display design abilities, present portfolio items, and stay current with design trends.
Dribbble can be a helpful tool for sharing your work and expanding your professional network, whether you're a student, a freelance designer, or a seasoned professional.
It gives users a place to organise their creations into a portfolio and share them with the world. Users of Behance can submit photos, videos, and other types of digital content to highlight their abilities and work samples.
It also provides a platform for designers and other creatives to network with their colleagues, connect with possible customers and collaborators, and keep up with the most recent developments in their specific industries.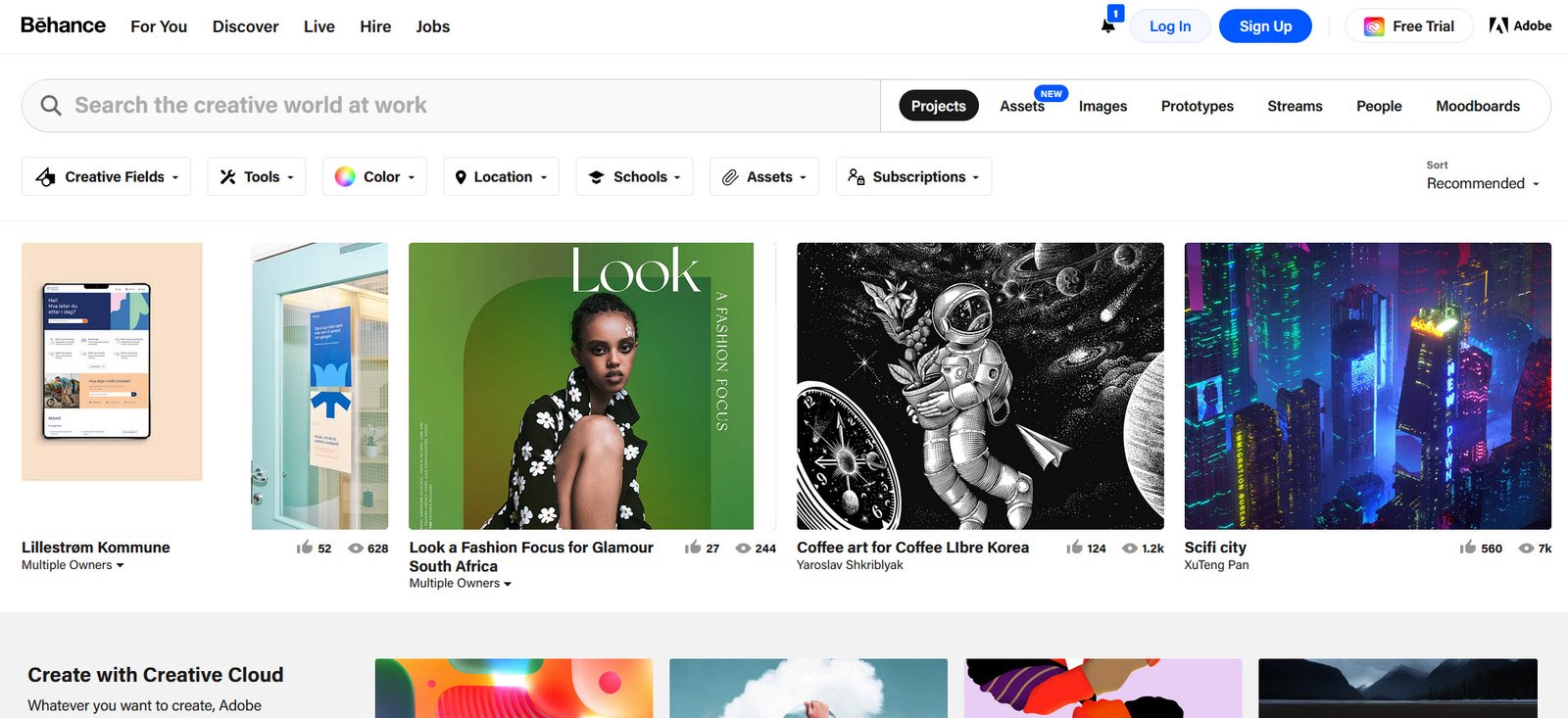 Whether you're a student, a working professional, or a freelance designer, Behance may be a useful resource for showcasing your work, expanding your network, and discovering new opportunities.
A career network for designers, artists, and other creatives is called Coroflot. It gives individuals a platform to present their portfolio and make connections with possible customers, coworkers, and employers.
Users can create a profile on Coroflot, add pictures and other types of digital content to showcase their portfolio items, and connect with other people in the creative community. Additionally, the network offers job advertisements, creative resources, and other career-advancing tools.
Whether you're a student, a self-employed designer, or an experienced professional, Coroflot can be a helpful resource for discovering new opportunities, connecting with peers, and disseminating your work.
Users may easily establish a portfolio website using its user-friendly interface and selection of configurable templates without having to learn any coding or design techniques.
You may post photos, videos, and other types of digital content to Portfoliobox, as well as make galleries and add custom pages to promote your work and build your unique brand. The platform is a fantastic option for anyone wishing to quickly and easily construct an online portfolio because it is made to be user-friendly and accessible.
It provides an intuitive and easy-to-use interface for users to create and showcase their portfolio pieces, along with custom domains and advanced design features.
Carbonmade allows users to upload images, videos, and other forms of digital content to showcase their portfolio pieces and create galleries to present their work. The platform also offers customizable templates and a range of design options to help users create a professional and polished online presence.
Also read: