To convey messages, graphic design professionals offer visual material. By utilising visual hierarchy and page layout strategies, designers of interactive designs concentrate on the logic of displaying pieces to maximise the user experience.
To meet the distinct expectations of users, they make use of typography and images. Images and colour are used by graphic designers to draw viewers. Since choosing the right colour scheme is crucial for graphic designers, you should be well-versed in colour theory.
Visual communicators are essentially what graphic designers do. The term "communication design" also applies to graphic design. They use text, graphics, and images to engage customers and bring visual thoughts to life, most frequently with the use of graphic design tools.
One strategy businesses use to interact with customers is graphic design. Product promotion and sales, message delivery, and brand identity development may all be accomplished through design. Graphic designers integrate business with art, therefore the creative process is influenced in part by the objectives of the business, even while some graphic design has a commercial purpose.
There are numerous variations of graphic design. All of them are visual forms of communication that are often carried out on a computer or tablet. The practise of producing visually appealing content that aids in message delivery to an audience is known as graphic design.
Graphic design is the ideal way to use the art of visual communication, especially for brands trying to connect with their target audience.In their logos, marketing materials, commercials, website graphics, internal documentation, and email communications, brands make use of graphic design.
Here is a list of top 5 graphic design websites:
Canva
SVGator
Flipsnack
Visme
Prezi
1. Canva
Canva is a website that allows users to create a range of design elements, such as posters, presentations, social media graphics, logos, and more, using an intuitive user interface.
Without any prior design knowledge, users may create designs with a professional appearance using a large range of templates, design components, and tools.
Along with the ability to upload your own drawings, Canva also offers a library of stock photos and images. Canva is well-liked by companies, individuals, and non-profit organisations because of its user-friendly interface, low cost, and abundance of features.
Canva is a programme for designing and editing graphics for websites, social media profiles, reports, presentations, and printed goods. An online tool for graphic design creation is Canva.
Users may make graphic headers and designs for social media, document artwork, book and album covers, promotional materials, and logos using the Canva editor.Canva can be used for free, but with limitations.
Access to a restricted number of templates, design components, and functionalities is available in the free edition. Some of the things you can do with the free version of Canva include:
Create designs using a limited selection of templates and design elements.
Customize templates with your own text, images, and graphics.
Share designs with others through a shareable link or by downloading the design in image format.
Collaborate with others on a design in real-time.
To access the full range of templates, design elements, and features, a paid subscription to Canva Pro or Canva for Enterprise is required.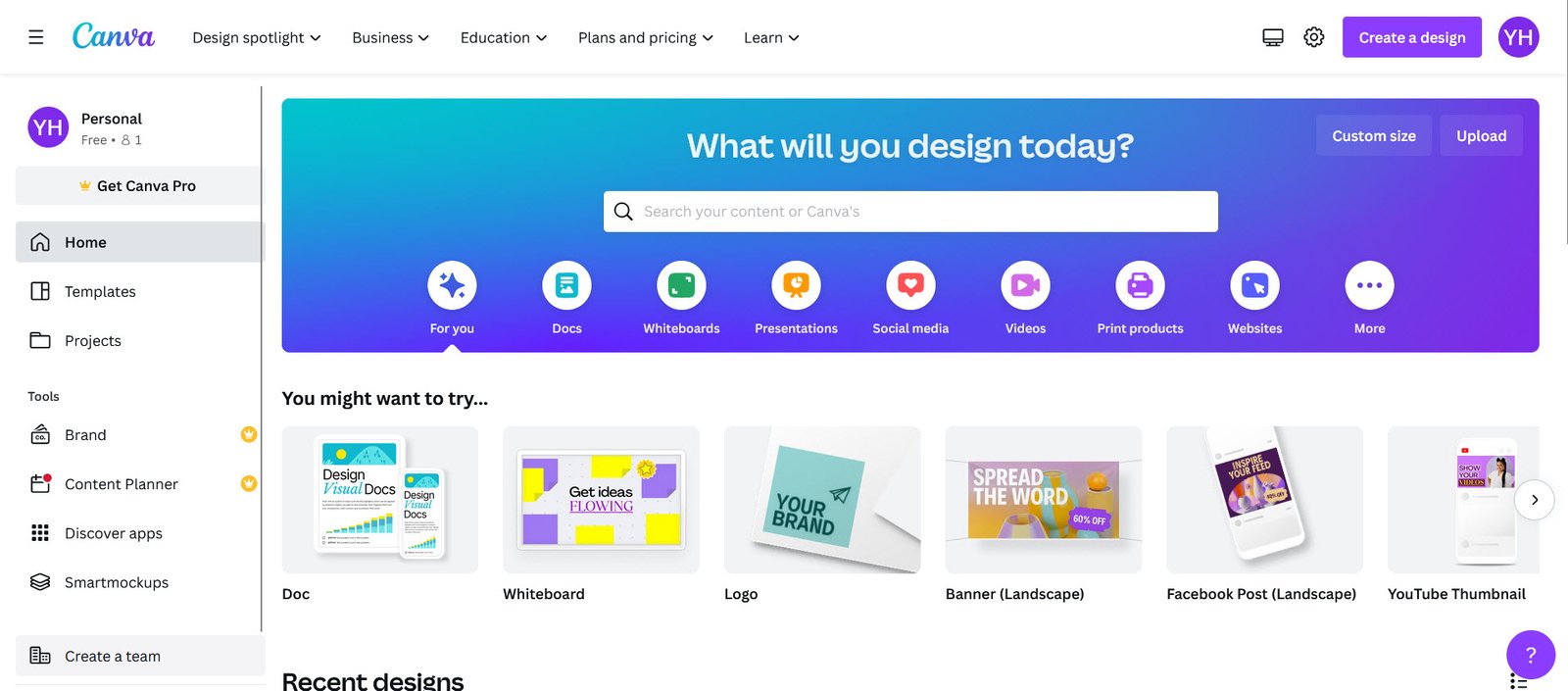 2. SVGator
Accessing specific portions of the visual with code and using CSS to modify characteristics like fill colour are two of SVG's most well-liked capabilities. SVG animation can be difficult to do correctly and calls for some very advanced code.
Animation of visuals in SVGator is really easy. Simply choose an element from the list, add it to the timeline, and assign one or more animators to it. Alternatively, you can choose an element, add an animator, and the element and the animator will both be put to the timeline.
Now that the animators have properties, you can add keyframes to them.
With SVGator, you may animate four different properties: position, rotation, scale, and opacity. You may combine several animated elements to produce a wide variety of effects, so don't let the short list mislead you.
Future plans for SVGator include path animations, which will allow objects to be animated along a pre-defined route. Code from SVGator is neat and properly formatted. As a result, designers without coding experience can use it to create animations and then easily transfer the code to a developer for customization.
3. Flipsnack
A web-based programme called Flipsnack enables users to produce and distribute digital flipbooks, periodicals, and catalogues from PDF files. For reading and sharing publications online, it offers an interactive platform. When compared to conventional PDFs, digital publications with a flipping page effect created using Flipsnack provide a more interesting and interactive reading experience. It is applied to:
Digital flipbooks, periodicals, and catalogues can be created from PDF files.
Share online digital publications
Website embeds digital publications
Publish interactive marketing collateral, such as product catalogues and brochures.
User-friendly, interactive reading experiences are what you should offer.
Analytical tools should be used to gather information and insights about reader behaviour.
4. Visme
Users can create and share a variety of visual information, including presentations, infographics, reports, and social media graphics, using the cloud-based graphic design platform Visme. Users may easily create professional-looking visual content without prior design knowledge thanks to its user-friendly drag-and-drop interface, vast selection of templates, assets, and creative tools. Visme has a number of important features, such as:
A vast library of templates and design assets.
A drag-and-drop interface for easy design.
A wide range of design tools, including charts, graphs, maps, and icons.
The ability to collaborate with team members in real-time.
The ability to export and share designs in a variety of formats, including PDF, JPG, and PNG.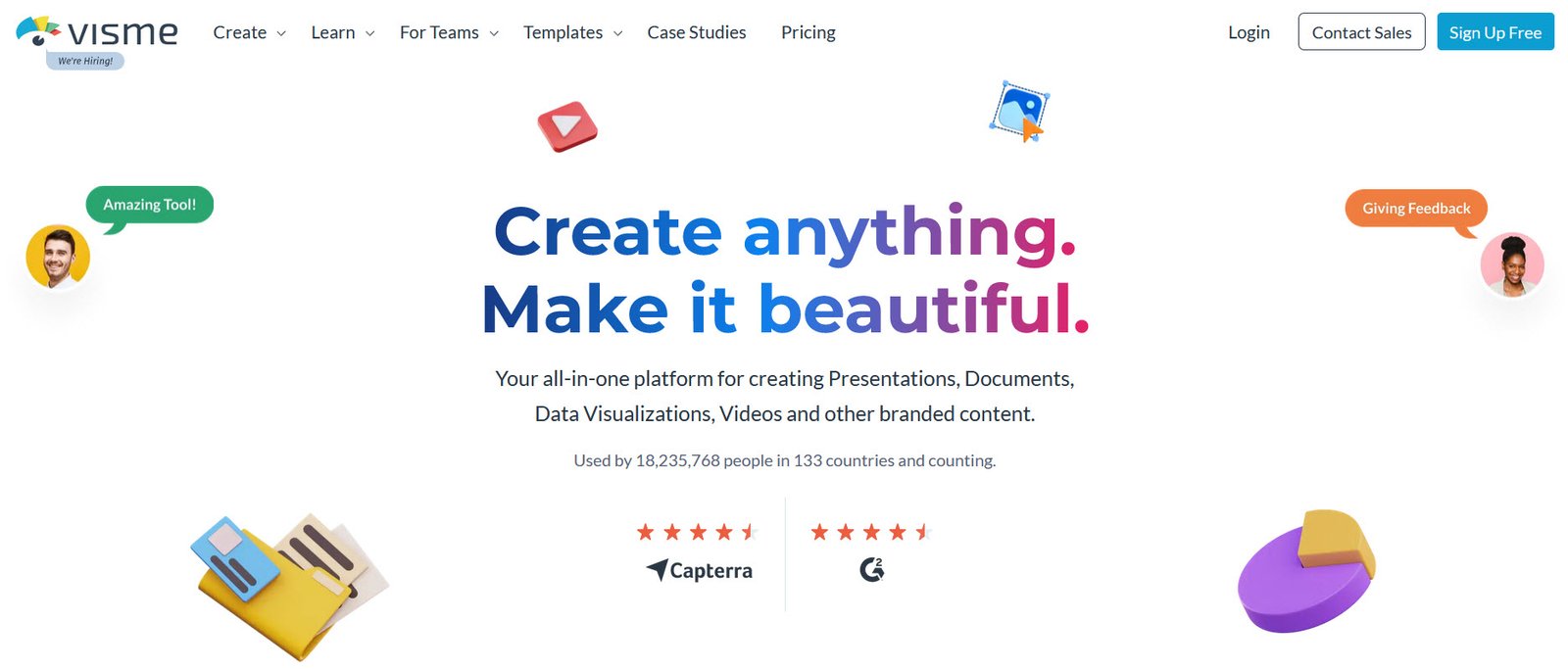 5. Prezi
Prezi is a cloud-based presentation software that provides an alternative to traditional slide-based presentations. It offers a zoomable canvas that allows users to create dynamic, non-linear presentations that engage audiences. Some key features of Prezi include:
A unique, zoomable canvas for creating presentations
A wide range of templates and design assets
A drag-and-drop interface for easy design
The ability to add multimedia elements, such as videos and images
The ability to share and collaborate with others in real-time
Analytics tools to track audience engagement.
Prezi is used by individuals, teams, and organizations to create engaging and dynamic presentations for a variety of purposes, such as sales presentations, training sessions, and educational lectures.
You may also read: