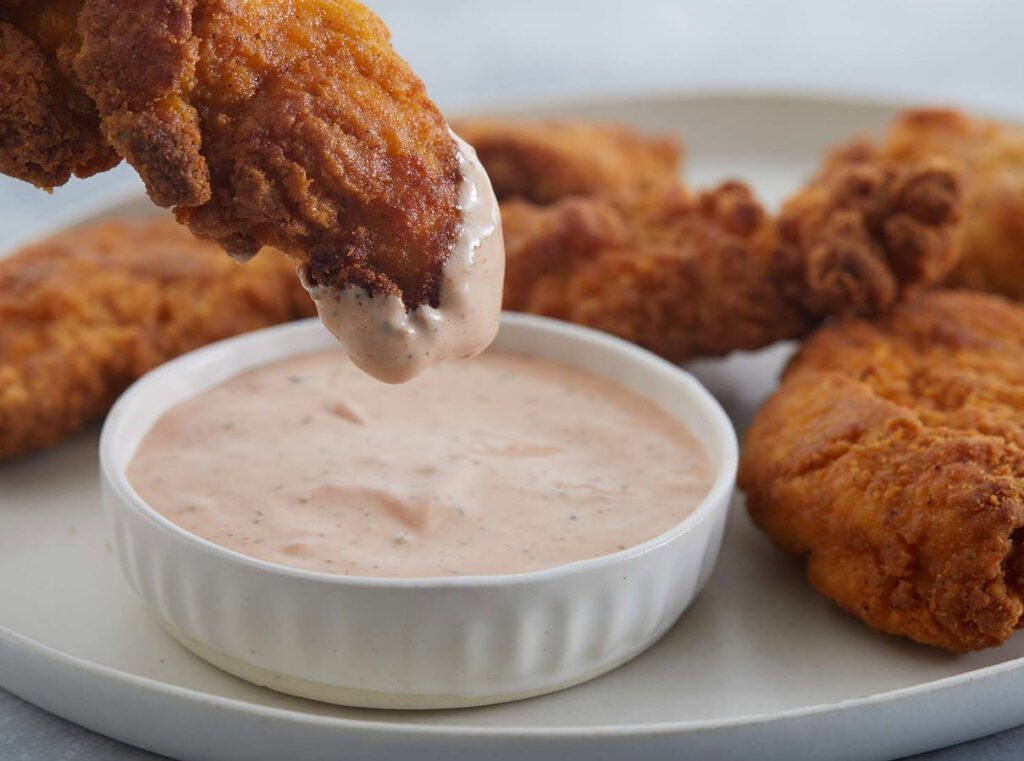 Chicken finger sauce is a tangy and savory dipping sauce typically served with chicken fingers, nuggets, or strips. The base of the sauce is mayonnaise and ketchup, which are then enhanced with a combination of spices and seasonings like garlic powder, onion powder, paprika, and Worcestershire sauce. Some recipes also call for honey or brown sugar to add a touch of sweetness. This versatile sauce can also be used as a spread for sandwiches or burgers.
Chicken fingers are a beloved dish enjoyed by many, but what's a good chicken finger without a delicious dipping sauce to go with it? This recipe for chicken finger dipping sauce is the perfect complement to your crispy, flavorful chicken fingers. With just a few simple ingredients, you can whip up a batch of this sauce in no time.
Here's what you'll need:
1/2 cup mayonnaise
1/4 cup ketchup
1/4 teaspoon garlic salt
1 teaspoon Cholula hot sauce
1 teaspoon Worcestershire sauce
1/4 teaspoon coarse black pepper
Instructions:
In a small bowl, mix together the mayonnaise, ketchup, garlic salt, Cholula hot sauce, Worcestershire sauce, and black pepper.
Taste the sauce and adjust the seasoning as needed. If you prefer a spicier sauce, add more Cholula. If you like a tangier sauce, add more Worcestershire.
Once you're happy with the flavor, transfer the sauce to a serving bowl and chill until you're ready to use it.
That's it! This recipe couldn't be simpler, but the combination of flavors is sure to impress. The creamy mayonnaise and tangy ketchup provide the base for the sauce, while the garlic salt and black pepper add depth and complexity. The Cholula hot sauce brings a nice kick of heat, and the Worcestershire sauce rounds out the flavor with a touch of sweetness and acidity.
This chicken finger dipping sauce is versatile enough to use with other dishes as well. Try it as a dip for fries or onion rings, or use it as a spread on sandwiches and burgers. You can also adjust the consistency of the sauce by adding a little bit of milk or water to thin it out if desired.
In conclusion, this chicken finger dipping sauce is a must-try for anyone who loves a good dipping sauce. It's quick and easy to make, but the flavor is anything but basic. Give it a try and see how it elevates your chicken fingers to the next level!
You may also read: